---
Why Convert AVI to MP4
AVI stands for Audio Video Interleaved, a computer graphics animation format used in Microsoft Video for Windows. MP4 is MPEG4, short for Moving Picture Expert Group-4. MP4 was a reliable application that required a relatively low amount of bandwidth, just about everyone could take advantage of using the tool.
The enhancement of the speed of various types of Internet connections also helped to make MP4 more accessible to a greater audience. Not only the speed, almost all portable devices such as iPod, iPhone, Mobile, Apple TV, PSP, Zune support MP4 video compatible formats.
Free software to convert AVI to MP4 video formats
Convert AVI to MP4, as its name says, it is one free but powerful software to convert the AVI video files to MP4 (MPEG4) video format files, not only support AVI (AVI, DivX, Xvid) video formats (.avi), but also WMA, MOV, H.264, MPEG1/MPEG2 video formats. With fast conversion speed, now you can convert your favorite's video to your portable device at one moment, play a movie with a portable MP4 player.
The usage of "Convert AVI to MP4" is very easy, don't worry about the any encoders and decoders, this software have included almost popular video codecs. Click [Open] button to open one .avi video file, program will generate one default output MP4 filename (you can click "Save as" button to change this), then click "Convert" to start the converting progress, just once moment, the program can create one MP4 video file, the video width, height, quality same as the source .avi file. It is one very simple but useful video tool.
For new user, if your source video is other video format, please change the file type on [File Open] dialog, you can find the video types include: WMV Video Files (*.wmv), MOV Video Files (*.mov), RM Video Files (*.rm) and MPEG Files (*.mpg), and if your video is not these file types, you can select the "All Files (*.*)" to show all files.
Program will check the codec file before work, if the codec missed or error, you need reinstall this software.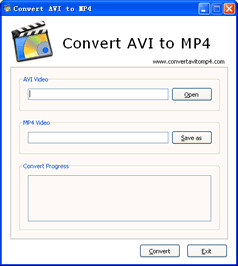 Main Features of this software:
Easy to use and user friendly interface.
100% compatible for Windows Vista, work fine with Windows XP, Vista and Windows 7 (32bits and 64bits).
Convert video files to MP4 can be played in MP4, iPod, iPod Touch, iPhone, Mobile phone, PSP, PS3, Zune, Apple TV.
Support all popular video formats such as AVI, MPEG, MP4, WMV, DivX, Xvid etc to MP4.
100% FREE software, free for personal use and doesn't use much memory.
100% CLEAN software, no adware or spyware.

The latest version can have better video quality
Download this free software:
Software license:
This program is Freeware
FFmpeg is licensed under the GNU Lesser General Public License (LGPL)
Interface language:
English
Operation system:
Windows XP/Vista/7 (32-bit and 64-bit)
Distributive size:
4.09 MB
Download Mirror:
---
Copyright 2009, all rights received. This program is free for both personal and non-commercial use.